National Press Recognition
River Point Resort has been featured in:
Midwest Living Magazine Rated "Best of the Midwest"
Good Housekeeping Magazine
Travel and Leisure Magazine
Boundary Waters Journal
Lake Superior Magazine
Outside Traveler Magazine
Experience Life Magazine (Lifetime Fitness)
Germany's Lufthansa Magazine
Chicago Tribune Newspaper
CBS Early Show
Featured River Point Outfitting Co.'s adventure canoe trips into the famous Boundary Waters Canoe Area Wilderness of Minnesota. Northern Minnesota resorts at their finest! River Point Resort was honored to be named the "Property of the Year"by the Minnesota Association of Innkeepers.
We are proud to have been included in the following publications!

Midwest Living Magazine:
Into the Wilderness-

"Who's on your list? Adventurers, romantics, sports lovers? No matter what personality types you're shopping for, experiences make the best presents of all. We've tracked down great getaways tied up in neat packages in all price ranges. They're great for giving throughout the year.

AS I DIPPED MY PADDLE into Lake One and our canoe lifted free of the sand, the unnerving realization sank in that I was headed into the unforgiving ruggedness of Minnesota's Boundary Waters, and my partner, my 12-year-old daughter, already had stopped paddling to look for fish. My sister and her son were paddling like contestants on The Amazing Race. My wife and my other daughter had stopped to fix their hats. Nature, I hoped, would be kind to us.

Fortunately, we had help. Ely-based River Point Resort outfitters designed this "Taste of the North Wood" two-day, one-night trip to ensure novices like us have a good first experience here. The staff gave us canoe lessons, packed our gear and food and drove us to the launch point. They salved our fears about bears and getting lost, although they did suggest we stick to Lake One, avoiding portages and the more remote tangle of lakes.

The advice was good. Even though we had a map and compass, the shorelines massed with pine trees and boulders created a disorienting flow of islands, points and inlets. Finding a campsite (marked only by a metal grate) was not easy. Eventually, we found one about three miles from where we put in (five miles, adding wrong turns and circles). We gathered wood, started a fire, pitched tents on hard ground and boiled lake water to cook chicken, mashed potatoes and even lemon pie (which was delicious) . Our muscles ached, we were dirty, there was only lake water to drink, and there was nowhere soft to sit, yet a singular contentment settled over the camp. This wilderness was our wilderness, it seemed, reachable only through self-reliance (and a good outfitter). The following morning, we sat on sun-baked rocks at the edge of the gently lapping lake, watching the stillness and listening to the sound of peace.

There was no rush to leave. We felt as if we had discovered a new world. We had, in fact, discovered two: the wilderness around us, and one within."
Written by Greg Philby

Trip Guide-

"INTO THE WILDERNESS The National Forest Service requires permits to enter the Boundary Waters; limit nine people per permit. River Point Resort & Outfitting Company will customize your travel package, depending on your skill level and your choice of options, such as menu items, sizes and types of canoes and tents, sleeping bags, etc. You may even have a guide accompany you on the trip, if desired. Basic "Taste of the North Woods" one-night package for six (as described in story) is about $595 with an extended stay at the resort."
View the Article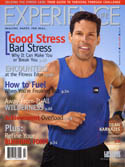 Experience Life Magazine:
"Away-From-It-All Wilderness"

"If peace and quiet have been in short supply, the Boundary Waters Canoe Area Wilderness may be the getaway your body and soul crave. . ."

"There's a real need in our crazy, busy world to find harmony in nature."


"IDLE HANDS–Hours spent in contemplation or daydreaming-the kind of experience that a sojourn in the wilderness offers in spades-often bring about a renewed sense of self and a resetting of the body's natural rhythms. Waking becomes tuned to the rising of the sun, the day winds down in concert with the sunset.

It's that leisurely sense of time that leads Steve Pfister back to the Boundary Waters wilderness time and again. For more than 10 consecutive summers, the Chicago businessman has taken his wife, Kim and their six children north to a resort [River Point Resort] in the Boundary Waters, leaving behind the hectic pace of city life.

"Where we live, in metropolitan Chicago, I'm continuously in traffic, Pfister says. "Everything goes so fast, and there's so much pressure on kids to participate in extracurricular activities. What I look for are ways to slow life down a little. In the Boundary Waters, you can paddle for miles without seeing another human being. "

Cut off from the phone. . .Pfister's family is inspired to be creative. There's no television or soccer practice, so the kids devise their own entertainment: fishing, hiking, spotting wildlife and other low-tech diversions. The family spends an afternoon paddling canoes or swimming at a nearby falls. At night, the children gather wood for a bonfire on the shore. As the embers die and the moon and stars emerge, the family converses, marveling at the peaceful beauty that surrounds them.

"It sends a chill down your spine," Pfister says. "You hear loons, or animals moving about in the woods. On a recent visit, a rare Canadian lynx walked right past our cabin along the beach."

Steve believes that rustic destinations like the Boundary Waters [and River Point Resort] offer visitors a sense of peace that they can no longer find in their own backyards."

The primary reason people come here [River Point Resort] is to renew, rejuvenate and reconnect. Here, they can find a space for equilibrium, where they are empowered to connect with their inner selves and be contemplative. There's time to think, to talk-time just to be. People often develop an emotional connection to this area.

Instead of television and telephones, the Koschaks offer their guests a variety of board games, cars, books, and journals-as well as comfortable chairs and screened porches for relaxing. Naturalists are available for guided hikes, and evening talks are offered on topics like the habits of timber wolves and the finer points of fishing. The Koschaks, who operate River Point Outfitters in conjunction with the resort, also help with self-guided trips, providing supplies, offering tips on routes and tricky portages, and handling permits and licenses."

"Immersed in the emptiness of the great outdoors, a person can find the sort of solitude that helps restore connections-to oneself, others and the natural world [at River Point Resort]."